Emotional and Sexual Building Blocks – Pt. 3
By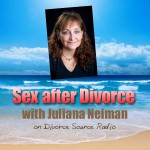 Sex therapist, Juliana Neiman, returns for the third and final segment of Emotional and Sexual Building Blocks on Sex after Divorce on Divorce Source Radio.
Juliana speaks to the importance of rebuilding self-esteem after divorce and explains that we should feel deserving of love.  Clearly the most widely-used approach to divorce recovery, the "rebuilding" model makes the process healthier and less traumatic for those who are divorcing or divorced — and their children.
Juliana provides some time tested principles written about in Dr. Bruce Fisher's book, Rebuilding when Your Relationship Ends.  Over two decades of research and practice are combined with feedback from hundreds of thousands of men and women who have used the book on their own or in one of thousands of Fisher divorce recovery seminars worldwide.  Juliana believes this book and understanding your building blocks, can transform your life for the better.
Topics in this final segment include:
Self worthiness
Trusting your partner with love & sex
Respect
Openness with your partner
Podcast: Play in new window | Download