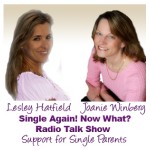 Okay, the show title is just plain dumb, but you try writing better.  When Joanie, Lesley and Steve get together on Single Again! Now What?, the subjects change faster than a speeding bullet.
This show begins with a discussion on control freaks and quickly shifts into what chores some women have to do and Steve feels isn't right.  (He's kind of old school.) The trio then shifts into healthy eating and the organic produce guidelines.  Do you know how to tell the difference of true organic produce in stores based on the little sticker?  And who's great idea was it to place a sticker on every piece of fruit?
So that's the health part of the show title.  As for the horny, Lesley tells the story of a woman who has a "friend with benefits" relationship because he's "the best lover ever!"  And where did he get his sexual knowledge…  from a friggin book.  (Steve claims he wrote the book… whatever.)
The show ends on an up-note with how to follow your heart and live your dream.  So enjoy the ride and stop by the Single Again! Now What? Facebook page at www.Facebook.com/SingleAgainNowWhat.
Podcast: Play in new window | Download