Lesley and Steve – Joanie = Single Again! Now What? Episode #20
By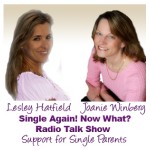 On episode #20 of Single Again! Now What? Lesley and Steve are holding down the fort.  (Joanie got called into a meeting an hour before doing the show.)
The show, as always, is a non-stop stream of everything important and not so important.
Lesley and Steve talked about everything in this show including:
Breaking relationships into a mathematical equation based on the book Emotion Equation
Octo-Mom agrees to do an adult film
The life of a hooker
Stupid laws
Downtown Atlanta
Shuffleboard bar game
Changing equipment in golf and tennis while baseball stays the same
Roger Clemens verdict and steroids in sports
Doctors not telling patients the need for Co-Q10 when taking satins
Facelifts and Botox
Improving your self confidence by working out
Steve talks about his band in middle school and posts a song on Single Again's Facebook page
Changing the blade on a lawnmower
And last but not least, we have the privilege of meeting Lesley's son, Jack.
We enjoy hearing form our listeners, so please visit our Facebook page at: www.Facebook.com/SingleAgainNowWhat.   And feel free to write us at: DivorceSourceRadio@gmail.com.
Podcast: Play in new window | Download