Lose It! The High Tech Way to Lose Weight
By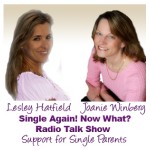 Joanie, Lesley and Steve are back with tons of stuff to talk about on Single Again! Now What?
Steve begins by introducing us to a cool new app for your smart phone designed to help you lose weight.  Steve Claims to have lost 8 pounds in three weeks.
Basically, it is the boring old COUNTING CALORIES!  "Oh no!" I hear you say. "Adding up all my calories every day!" Well, no, not exactly. Thanks to the amazing Lose It! app or website, you can now type in what you've ate and it will work out the calories for you!  We're not getting paid to say this stuff, we just think you may want to give it a try.  Let us know how you like it.
We also revisit Mother's day, talk about divorce coaching for men and discuss Internet privacy issues that effect all of us.
Remember, we have our own Facebook page and we invite you to join our community.  www.Facebook.com/SingleAgainNowWhat
Podcast: Play in new window | Download