Survive and Thrive after Infidelity
By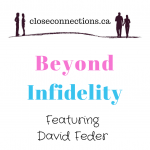 David Feder, a therapist specializing in helping people recovery from infidelity not only believes that the majority of people can save their marriage and keep their families intact, they can SURVIVE infidelity and THRIVE!  David brings his expertise to DSR where in this podcast he speaks about his own 12 Pre-Requisites to Recovery that Participating Partners and Hurt Partners require in order to successfully recover.  David believes that following the pre-requisites for a successful recovery increases the likelihood for a successful recovery and the possibility of having a relationship that thrives.  Something we all want.
Of course there are mistakes that people may make and David highlights his Five top Recovery Hurdles for us.  Lemony Snicket, a writer, musician and novelist said, "What might seem to be a series of unfortunate events may be the first steps of a journey".  David suggests that "if you are currently suffering from infidelity, follow my 12 Pre-Requisites for Recovery and begin your journey.  You may be pleasantly surprised.  Infidelity can be an opportunity to jump start your relationship, it does not have to be an ending."  We hope you will tune in.
For more on David visit www.CloseConnections.ca.
Podcast: Play in new window | Download