The Voice of a Child - Protecting Children During Divorce
By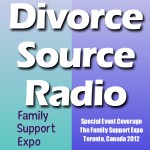 This is the first in a series of programs recorded at The Family Support Expo, in Toronto, Canada, in October of 2012. Congratulations to Stephen Rosenfield for delivering a great show!
In this program, attorney John Schuman of Devry Law joins Steve Peck to discuss the voice of a child during divorce.
Divorcing is tough enough, but add children to the mix, and divorce just got more complicated.  Some parents get so caught up in the drama of divorce that they forget to think about how their children might be processing this restructuring of their families.
Protecting our children's innocence should be the priority when divorcing, and this program will help you gain insight into what your children might be experiencing, regardless of their ages. In this discussion, Mr. Schuman also provides valuable advice to parents, especially those in high-conflict situations.
Topics in the program include:
The effect divorce has on children
Kids don't want to decide where to live
Children want to have a voice in the situation too
The harm of fighting with your ex at sporting and public events
Co-parenting around your children's activities
The concerns children have when their parents separate
And much more.
Always remember, your children are watching you and how you handle your divorce.  They will face their own conflicts in life, and, in many cases, model the behavior they witnessed in you.  Be the best role model you can be during this very tough time.  Your kids deserve it and there is nothing more important than protecting children during divorce.
For more on John Schuman, visit: http://www.devrylaw.ca/ and read Nobody Asks Where I Want to Live at: http://www.devrylaw.ca/wp-content/uploads/2011/11/ConsenttoTreatmentandParenting.pdf.
Podcast: Play in new window | Download