How to Rebuild After Divorce
By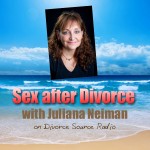 On this episode of Sex after Divorce with Juliana Neiman, the topic is How to Rebuild After Divorce.
For many, divorce hits with the force of a tsunami.  You exit the process broken and feeling less than.   After taking time to heal, it's time to get back up, dust yourself off and begin the process of rebuilding your new life.
Juliana Neiman takes us through the building blocks necessary to rebuilding our life and relationships.  When your self esteem becomes bruised, you don't feel sexual.  It takes some longer to get over a relationship than others.
Follow the building blocks mentioned in this program will help you move forward with more confidence in future relationships.  For more on Juliana Neiman, visit: www.JulianaNeiman.com.
Podcast: Play in new window | Download