Archive for "Ask Henry"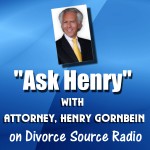 In this episode of "Ask Henry" with family law attorney, Henry Gornbein, we begin a series designed to walk you through the process of divorce.  This is Part 1, of The legal process of Divorce - Selecting an Attorney.
Being well prepared and knowledgeable is key to a successful divorce.  This episode educates you and provides options for a more peaceful divorce.  Whether contemplating divorce or just beginning the process, Henry walks you through the process  of selecting an attorney that's right for your case, including questions to ask the attorney, what to expect during the process, and how to best prepare for the consultation.
There are many myths regarding filing for divorce. Some say that you should seek a law firm that only represents men or women as a means of achieving a better outcome.  Others say it's important who files for divorce first.  Henry addresses these questions and breaks down fact from fiction.
If you would like to as Henry a question, send an email to [email protected] and we'll answer it in an upcoming show or via email.  Visit www.DivorceSourceRadio.com for more programs on the legal and emotional side of divorce, and visit our Facebook page at: www.Facebook.com/DivorceSourceRadio.
Podcast: Play in new window | Download