Archive for Being Single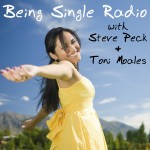 On this episode of Being Single, A Life More Traveled, Travel and Divorce Coach Julie Morey join us to talk about the healing powers of traveling after divorce… even if you're alone.
The world is our playground.  It is waiting for us to come and play.  There is so much to see and do out there and I KNOW how life changing travel can be.
You know there is something more out there and you want to EXPERIENCE it – to live life fully and completely.   Travel stretches your boundaries, takes you the edge, teaches you, challenges your assumptions, and gives you a chance to live LIFE in a way could never imagine. 
Through travel, Julie healed from divorce, made lifelong friends, saw the wonders of the world, danced on a beach at midnight, spent ten days in silence at a monastery, watched the sunrise over ancient ruins, -  and became the amazing person she is today. 
In Julie's book Travel, Sex, and Train Wrecks you can learn more about her journey. If you would like to learn more about Julie's travel or divorce coaching, visit: www.ALifeMoreTraveled.com
Podcast: Play in new window | Download