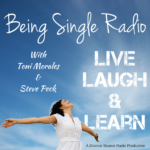 There are shows and then there are shows.  THIS is one of those shows.  If you find yourself single and dating, you know this can be a difficult process.
On this episode of Being Single, Steve and Toni speak with one of the country's most popular dating coaches, Lisa Shield. (www.LisaShield.com) Lisa shares how she found her dream man after 100 dates and encourages us to not be afraid of the dating process, dip our toe in the water, and find the love we deserve.  This is s "Must Listen To" program for any of our single listeners.  And because we don't have a time limit on shows, this one lasts two hours, but we bet you'll be using your pause button and be coming back for the entire show. Show topics include:
What is "Naked Dating?
Do men and women and women want the same thing?
How we go about getting our needs met?
How important is physical attraction?
Do men seek sex for different reasons than women?
Male vs. female fantasies
Has women's lib changed the landscape of relationships?
The importance of visualizing your perfect partner
The power of unconditional love
How to overcome the fear of dating
How to give and take in relationships
Knowing your boundaries
Why you may be attracting the same type of person you don't want
Do you feel deserving of love?
Making the most of your dates
Should a new relationship be having problems?
Lisa shares how she met the man of her dreams
How to not take things our partner says so personally
How to support your partner during tough times
Encouragement to get out and begin dating
How to go about online dating
The importance of having a great dating profile
The three date rule. Does that really happen?
Is it right to be uncompromising and have the "must take me just as I am mentality?"
Can you suggest your partner make changes?
For more information on Toni visit: www.YouRiseAbove.com.  For more programs on divorce and life after divorce visit: http://www.DivorceSourceRadio.com.  And don't forget to join our Facebook community at: http://www.Facebook.com/BeingSingleRadio.
Podcast: Play in new window | Download