Archive for Sex after Divorce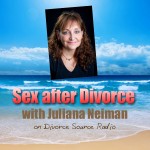 On this episode of Sex After Divorce with Juliana Neiman, we discuss sexual indiscretions.
Infidelity happens in relationships for many different reasons.  Some feel they aren't receiving the attention they deserve from their partner, and seek a sexual or emotional relationship elsewhere.  For others, it may be something that happened out of the blue, and afterwards, left them feeling guilty and ashamed.
Some marriages head towards divorce after a partner who has had an indiscretion told their partner of their affair.  The question is, if you are in a relationship and had an affair, realized it was a mistake, and vow to never do it again, should you tell your partner?  You might be surprised with Juliana's answer.  We take a look at the cause and effect of infidelity in marriage and offer advice on preventing affairs.
Also discussed in the program:
Open relationships
Is an emotional affair more damaging than a sexual affair?
How to prevent an affair by being aware
And much more.
For more on Juliana Neiman, visit: www.Juliana Neiman.com.
Podcast: Play in new window | Download