St. Patrick's Day on Being Single
By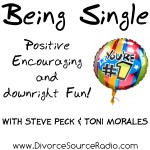 Top of the morning to ya and Happy St. Patrick's Day!  This show celebrates this day of green glory.
So sit back with a cold green beer or a pint of Guinness and let Toni and Steve entertaining  you with all things single!
For more on Toni, visit www.YouRiseAbove.com.  Join the Being Single Facebook community at: www.Facebook.com/BeingSingleRadio.
For more programs on divorce and life after divorce visit: www.DivorceSourceRadio.com
Podcast: Play in new window | Download