The Astrology of Relationships
By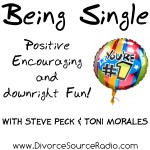 On this episode of Being Single with Steve Peck and Toni Morales we discuss The Astrology of Relationships with YouTube Astrologer Grace, AKA GraceAnd4 on YouTube.
Steve and Toni have been fans of her YouTube Series on How to Get With a Man based on their astrological sign.  Grace is also producing a series on How to Get With a Woman based on their astrological sign as well.  Grace also tell why each sign "rocks" and "sucks" in relationships as well.
I you've ever wanted to know how your man or woman ticks, this is a "must hear" episode.  To see more of Grace's videos visit: https://www.youtube.com/user/Graceand4.
For more information on Toni visit: www.YouRiseAbove.com.  For more programs on divorce and life after divorce visit: http://www.DivorceSourceRadio.com.  And don't forget to join our Facebook community at: http://www.Facebook.com/BeingSingleRadio.
Podcast: Play in new window | Download