Archive for Being Single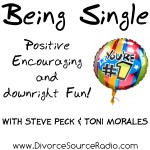 Welcome to March!  It's been a hard, cold winter and we're all ready for Spring.
Toni and Steve begin March with a ton of topics guaranteed to warm you up including:
Why are air fares soaring?
Does Playgirl Magazine still exist?
Sons of Anarchy vs. Breaking Bad
Can Divorce attorneys fire their clients?
Getting over your ex - How long will it take?
Astrological Forecast with Nadiya Shaw
And much more.
For more information on Toni visit: www.YouRiseAbove.com.  For more programs on divorce and life after divorce visit: www.DivorceSourceRadio.com.  And don't forget to join our Facebook community at: www.Facebook.com/BeingSingleRadio.com.
Podcast: Play in new window | Download