Toni's in Orlando, Florida at Disney World
By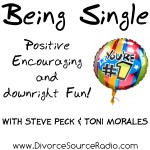 Episode #12 of Being Single with Steve Peck & Toni Morales features Toni Skyping into the show poolside from Disney's Fort Wildnerness .
Steve seems quite curious as to this whole "camping" thing.  (He's never camped his entire life).  Toni explains this this trip is "High End" and includes a 37 ft. Bounder RV. (Toni even camps like a Rock Star)!
The show is like being poolside with Toni and the screaming kids in the background reminds us of what it's like to travel on a family vacation with the kids.
So grab a cold one and take an audio trip to Florida.  Be sure to join our community atwww.Facebook.com/BeingSingleRadio.  For more on Toni, visit: www.YouRiseAbove.com.  For more programs on Divorce and Life After Divorce, visit www.DivorceSourceRadio.com.
Podcast: Play in new window | Download