Mistakes During Divorce
By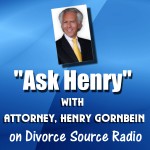 On this episode of "Ask Henry" attorney Henry Gornbein discusses some common mistakes people make during divorce and how to avoid these pitfalls.
For more on Henry Gornbein, visit:www.FamilyLawForMichigan.com. To order a copy of Henry's latest book Divorce Demystified visit: www.divorcedemystifiedbook.com.
For more programs related to divorce and life after divorce, visit: www.DivorceSourceRadio.com.
Join our community and be notified of new programs by "liking" our Facebook page at:www.Facebook.com/DivorceSourceRadio.
Podcast: Play in new window | Download