Unfaithful - A Look Into Infidelity
By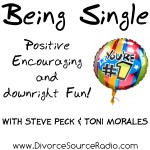 On this episode of Being Single, Steve and Toni speak with a long-time Divorce Source Radio listener who has experienced infidelity in his past marriage.
As many of our listeners know, Toni was featured on the Oprah Winfrey Network's series titled Unfaithful.  It's interesting to hear both a man's and woman's viewpoint of being cheated on.
Questions arise such as, What would make a partner cheat and how do you deal with this type of situation when you have children? Then their are the lessons of forgiveness and trying to move forward without bringing the bagage of bitterness from the past into the new relationship.
Even though Toni and Tren have been to Hell and back, it's refreshing to hear that they have moved on working to rebuild their lives with hope and trust.  If you have ever been cheated on, you're going to relate to this show and hopefully find a sense of comfort in knowing that others have experienced your pain as well.
For more on Toni, visit: www.YouRiseAbove.com.  For more programs related to divorce and life after divorce, visit, www.DivorceSourceRadio.com.
Podcast: Play in new window | Download