Mourning Divorce and Developing New Rituals
By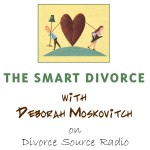 You don't have to be Jewish to appreciate the advice our guest, Dr. Anne Brener, shares about mourning divorce, and developing new rituals and traditions.
Rabbi Brener, LCSW is Director of Spiritual Development at The Academy for Jewish Religion, California. She serves Congregation Makom Ohr Shalom as Rabbi and is a Bereavement Chaplain at Skirball Hospice. She is the author of Mourning & Mitzvah: Walking the Mourner's Path  (Jewish Lights, 1993 & 2001) as well as many other publications and assists institutions in creating caring communities. As a Psychotherapist and Spiritual Director, specializing in grief and healing, she works with people throughout North America.
In this episode of The Smart Divorce, Rabbi Brener shares her insights and wisdom on mourning the loss of marriage or significant relationship, finding ways to creatively move on, and the dance that you might learn.
Topics include:
Grieving divorce and seeking closure
Walking the mourner's path
Dealing with ambiguous losses
How rituals make the intangible tangible
Creative ways to obtain closure and moving on from divorce
How Earth, Wind, Fire and Water can help you find inner peace
To contact Rabbi Brener, please email her at [email protected].
Rabbi Brener's highly acclaimed book Mourning & Mitzvah: Walking the Mourner's Path can be purchased through amazon.com at http://www.amazon.com/Mourning-Mitzvah-Journal-Walking-Mourners/dp/1580231136
Listen in to find out how to find closure, start anew, and develop fresh rituals for an enriching future.
Don't forget, LIKE us on our Facebook pages, The Smart Divorce and Divorce Source Radio.  Join the community.
Podcast: Play in new window | Download