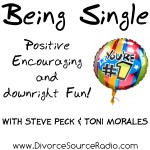 Steve Peck and Toni Morales are back for episode #2 of Being Single asking the question, How's Your Sex Life?
This program features world renowned hormone replacement specialist, Edward Lichten, M.D..  Many couples had sexual issues with their partner long before their relationship broke up.  The question is, why and how do we prevent this in future relationships?
Dr. Lichten explains how environmental toxins are harming us and hurting our sex life.  For our female listeners, can you remember your partner with no desire for sex, a lack of energy and feeling more depressed than he used to?  And men, has your partner lost her drive for sex and did her periods cause emotional swings that made you feeling like you were living with a crazy person?
Dr. Lichten explains what's going on and tells how we can bring back the loving feelings you had the first time you fell in love through hormone replacement therapy.  If you find yourself single and looking to begin a new, passionate and energetic life, this is the program for you.
For more information on Dr. Edward Lichten, visit his website at: www.USdoctor.com.
For more on Toni Morales, visit: www.YouRiseAbove.com.  And for more program on divorce and life after divorce, visit: www.DivorceSourceRadio.com. 
Podcast: Play in new window | Download