Break Up Songs - Say Something
By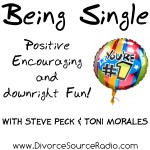 Happy New Year from Toni and Steve at Being Single!  We wish you the best year ever.
This first show of the New Year is jam packed with all kinds of fun stuff.  It's everything anyone who has ever been single can relate to.
-
Topics in the show include:
Steve & Toni's Christmas and New Year
The horrible flu season
Toni's 80′s crush band
Sons of Anarchy and Breaking Bad
Smart TV's vs. Cable.
How Long does it take to get over your ex?
Toni and Steve's break up songs
Losing weight and getting in shape for the New Year
Should couples liver together prior to marriage
And much more.
Be sure to "Like" our Facebook page at: www.Facebook.com/BeingSingleRadio.  For more on Toni, visit:www.YouRiseAbove.com. For more programs on divorce and life after divorce, visit:www.DivorceSourceRadio.com.  Feel free to write Toni or Steve @ [email protected]
Podcast: Play in new window | Download