Happily After Laughter with Yakov Smirnoff
By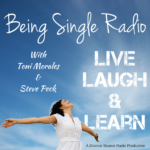 Today on Being Single with Steve Peck and Toni Morales, Yakov Smirnoff joins us to talk about his new comedy show, the Happily After Laughter Tour and explains how  laughter can effect relationships in a powerful way.
A mainstay in the entertainment scene since the late 1970's, Smirnoff was a regular guest star on the award winning NBC sitcom, Night Court. He has been a popular guest of numerous national TV shows including the Tonight Show. You've seen him on HBO and enjoyed his humor on his critically acclaimed Showtime special. Yakov has also co-starred in movies with Robin Williams in Moscow on the Hudson, Tom Hanks in The Money Pit, Meryl Streep and Jack Nicholson in Heartburn and Richard Pryor in Brewster's Millions. Yakov was invited to perform at the White House for several presidents and honored guests. President Ronald Reagan called Yakov a "national treasure."
In his newest endeavor, "The Happily Ever Laughter Tour", Smirnoff takes his comedy to a new level to showcase laughter's effects on relationships and envisions a world where sadness and tears are replaced with love and laughter.
Yakov is passionate about helping people extend the honeymoon stage of their relationships and "fall in love and laughter all over again" and you're going to LOVE this show!  For more on Yakov visit: www.Yakov.com.
For more information on Toni visit: www.YouRiseAbove.com.  For more programs on divorce and life after divorce visit: http://www.DivorceSourceRadio.com.  And don't forget to join our Facebook community at: http://www.Facebook.com/BeingSingleRadio.
Feel free to write Toni and Steve at [email protected].
Podcast: Play in new window | Download