The Legal Process of Divorce Part 2 - Filing for Divorce
By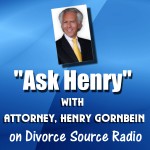 Family Law attorney, Henry Gornbein, continues his series, The Divorce Process.
In this episode, Henry addresses questions related to filing for divorce.  Some believe that it matters who files first.  You may be surprised with Henry's answer.
Others feel they would be best represented by a firm that markets directly to men or women.  Henry dispels the need for a specialized law firm.
Filing is never an easy decision to make and shouldn't be taken lightly.  Henry provides information and insight for anyone considering divorce in this important legal series.
For more on Henry Gornbein, visit: www.FamilyLawOfMichigan.com. For more programs related to divorce and life after divorce, visit www.DivorceSourceRadio.com.  Join our community and be notified of new programs by "liking" our Facebook page at: www.Facebook.com/DivorceSourceRadio.
Podcast: Play in new window | Download