Unfaithful, on The Oprah Winfrey Network, Wants You!
By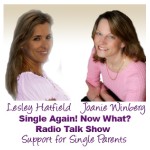 On this edition of Single Again! Now What?, Joanie and Steve take another look at infidelity in relationships.  Some couples find a way to work through the hurt and pain and stay together, while for others, divorce is the only option.
The producer of Unfaithful, on The Oprah Winfrey Network (OWN), met Steve at The Divorce Expo in Chicago and asked us to reach out to any of our listeners that would be willing to share their story of infidelity for an upcoming episode of Unfaithful - Season #3 on OWN.  Whether you were able to save your relationship or not isn't the point, it's the journey that either brought you back together or tore a once loving relationship apart.  We believe we can learn from others, and if you are willing to be featured on an upcoming episode and share your story, Steve will provide information on how to do so at the end of the show.
Other topics discussed include:
Are business asking us to give up too much personal information when applying for a job?
Are we losing our personal rights and privacy?
Is Fall your favorite time of the year and how does this season affect you?
What age were you when you discovered you couldn't party like it's 1999 anymore?
Going overboard on cruise ships
The Oprah Winfrey Network wants you!
And much more.
(Lesley got stuck in traffic and wasn't able to make this show)
For more on the Single Again! Now What? trio, visit their Facebook page at www.Facebook.com/SingleAgainNowWhat.
Podcast: Play in new window | Download