NLP Combined with Divorce Coaching Helps Get Over Divorce Faster
By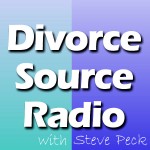 This episode of Divorce Source Radio with Steve Peck features Liz Becker, a Master Neuro-Linguistic Programming Practitioner (NLP) and a Divorce/Life Coach.  Liz combines her divorce Coaching and NLP skills in an effort to peacefully guide individuals through the painful process of divorce.
We take a look at how Neuro-Linguistic Programming can help people get over divorce faster and move on to create a healthier new life, post-divorce.
Neuro-linguistic programming is a cognitive-behavioral science that states the connection between the neurological process (thinking), linguistic (communication verbal/non-verbal) and behavioral patterns that can be organized to achieve specific goals in life.
To contact Liz Becker, visit: http://www.lifeaftersplit.com
Podcast: Play in new window | Download