Stepfamilies: Losses and Loyalties
By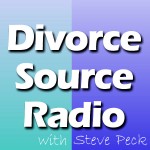 Divorce Source Radio with Steve Peck features Patricia Fares-O'Malley, PhD, a psychotherapist, teacher, hypnotherapist, stress and grief management specialist. She also authored the book, Healing The Love Wound - Relationships after Divorce.
This program focuses on the challenges stepfamilies face, and Patricia helps us understand what it takes for blended families to cohabitate with respect and harmony. Patricia has experienced this firsthand and shares her personal and professional experience regarding how to best manage your emotions, including grief, and go on to raise healthy kids and successful families.
This is a program you don't want to miss if you are entering into a blended-family situation. We'll address the all-important question, what is the most important thing a couple should do before marrying the second time around?
For more on Patricia visit www.Pat-Omalley.com.
Podcast: Play in new window | Download