Our Worst Show Ever on Single Again! Now What?
By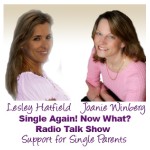 Welcome to the usually fun and fantastic Single Again! Now What! with Joanie, Lesley and Steve!
While most shows have been fun and fantastic, this one was hard to get through.  Perhaps the moon and stars were in the wrong sector, whatever that means. or perhaps the Single Again! crew were just off.  Bottom line, I'm not sure we would listen to this program ourselves.
The show is so bad that Joanie decided to offer the first listener capable of making it to the end a special one hour session with her. (Sorry, to hear the details, you have to actually listen to the whole damn program.)
Here's the stuff we talk about in our worst show ever:
Joanie's girls week out
Olympics wrap-up
Jack's Breakfast in bed
The great American cell phone and cable TV scam
Y.E Yang beats Tiger
Do women prefer a male or female gyno?
And much more.  (Dear God, really?)
Visit: www.Facebook.com/SingleAgainNowWhat for more on our exciting trio and your chance to win an hour with Joanie for enduring our tepid talk.
Podcast: Play in new window | Download