Steve's First Date, New Years & the Child Centered Divorce
By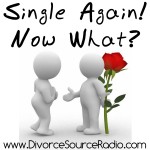 Happy New Year from Joanie, Lesley & Steve!
This episode begins with a discussion of New Year's resolutions and how some people deal with holidays being alone.
Lesley was in Ohio for the holidays and take us on a guided tour of her holiday season with her son, including a possible concussion from a sledding incident.
The Single Again saga continues for Steve as he prepares for his first eHarmony date ever this weekend.  Steve also had a breakthrough with his ex wife who he hasn't spoken with for four years and the two have agreed to meet and see if they can begin communicating again.
And finally, Joanie brings us Rosalind Sedacca of Child Centered Divorce, www.ChildCenteredDivorce.com, to help us understand the importance of parenting after divorce for the sake of our children.
Have a healthy & happy New Year!
Podcast: Play in new window | Download