The Family Support Expo Offers the Upside to Divorce
By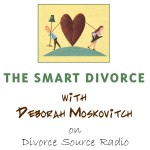 On this episode of The Smart Divorce with Deborah Moskovitch, our guest Stephen Rosenfield http://familysupportexpo.com and http://rosenfieldmediation.com is paying it forward.  Stephen is using his work as a Mediator and making a difference – with his mediation practice and the launch of The Family Support Expo in Toronto, Canada on October 20/21, 2012.
Whether it is a medical health issue, a mental health issue or a transitional issue, these considerations are often stigmatized within society.  We have learned to hide our problems to avoid rejection and ridicule.  But concealing our problems only makes them worse.  Nobody is perfect, and everyone experiences challenges from time to time. You may not be struggling with one of these issues, but you definitely know someone who is.
If you're going through a separation or divorce, you are not alone.  40% - 50% (statistics vary depending on where you live) of couples are just like you.  Separation and divorce could be the largest or second largest expense in your lifetime.  Parents rarely do well if their children struggle, and children rarely do well if their parents struggle.  There are many new considerations and circumstances and we appreciate that you need resolution on all fronts.
Topics in this program include:
•    The benefits of The Family Support Expo – the exhibitors, speakers, giveaways and more.
•    The $24,000 dilemma.
•    Considerations to developing a parenting plan when your child has ADHD, special needs or mental health issues.
•    How depression and mental health affects the family dynamic.
•    Elder-care and divorce.
•    Helping the world to be a better place.
•    How your mediation impacts future generations.
•    Going forward fairly in mediation.
This interview covers issues to mediate like you've never heard before, and one that should be on your download list!
For more information on Stephen Rosenfield and The Family Support Expo visit:
http://familysupportexpo.com and http:www.//rosenfieldmediation.com
Want to know more abut our show?  Then visit our Facebook page at
http://www.facebook.com/pages/The-Smart-Divorce/202908933137654.
Join the community and LIKE our page.
Podcast: Play in new window | Download