Having an Effortless, Extraordinary Life and Love After Divorce
By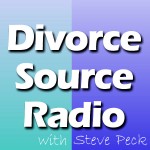 Divorce/Life Coach, Laura Campbell joins us to discuss how we can have an effortless, extraordinary life and love on Divorce Source Radio with Steve Peck.
Divorce is the dissolution of a profound and significant love relationship and while it feels like an end, is really the beginning of a journey towards attracting, creating, embracing and enjoying an effortless, extraordinary life and love.
Finding your ideal relationship can happen at any time and at any place.  However, if you are not living a life that allows you to interact with potential partners, it is going to be difficult to find one.
Topics in the program include:
How to go about finding an ideal relationship
Living a life of passion and purpose
The connection between healthy relationships with family and friends and your love relationships
The importance of being emotionally and financially healthy prior to entering into a new relationship
And much more.
For more on Laura Campbell and to receive her special offer for Divorce Source Radio listeners, visit: www.DiscoverTheDSpot.com
Podcast: Play in new window | Download