What Does It Mean to Love Yourself?
By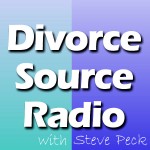 On this episode of Divorce Source Radio with Steve Peck, Karen McMahon is back to help us understand what it means to love yourself.  Self love is vital if we are to be loved in this world.  If you have been living in a loveless marriage, you have not been getting what you need from your spouse… and what have you been giving yourself? 
For many, it's hard to tell the difference between selfless, selfish and self-love.  If your tendency has been to put others needs before yours, self love is neither easy nor comfortable.  It often comes with feelings of guilt, fear and selfishness. 
You need to be clear on the difference between selfish and self loving so that you can stand firm in your desire to be healthy and be able to explain / defend your actions to your loved ones.Oscar Wilde put it beautifully, "To love oneself is the beginning of a life-long romance"
For more on Karen McMahon, visit: www.KMLifeCoaching.com
Podcast: Play in new window | Download