Frazzled to Fabulous after Divorce
By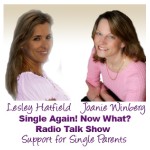 On our show today we had the great pleasure of speaking with founder of Life's Permissionslip.com life and business coach Michael Tertes! Michael did something many of us dream of doing and quit his corporate job (that was sucking his soul and killing his family life) and followed his passion. It took Michael 10 years to do what he knew in his heart was his life's mission and that was to serve others by becoming a coach. And what a coach he is! Lesley has worked with Michael as he is primarily an entrepreneur coach but so much of what he teaches relates to the emotional side of being human and single again!
Are you settling for mediocrity, pretending life is great, trying to be a hero and do it all, are you a martyr or feel stuck in an area of your life? Listen to discover which of the 7 archetypes you may be and how to make 3 shifts in your life to move from frazzled to fabulous post divorce.In this program, you'll learn to:
GET HONEST/GET REAL

GET WHO YOU REALLY ARE

GET OUT OF YOUR OWN WAY
For more on Michael, visit: www.LifesPermissionSlip.com.  Also, Michael is offering a first time ever break through teleconference to help you create your own personal course to having a fabulous life www.FrazzledToFabulous.com join us and bring a friend for free!
Podcast: Play in new window | Download