Improving Communications for Stepfamilies
By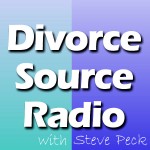 One of the biggest challenges for co-parents is keeping the lines of communications open and being on the same page with each other when it comes to organizing and planning your child's life.
Communicating just got easier, and on this episode of Divorce Source Radio with Steve Peck, Traci Whitney of Two Happy Homes joins us to talk about her website that provides a place where co-parents and stepfamilies come together to plan, organize and communicate their busy lives.
At www.TwoHappyHomes.com, parents can store contacts and medical information, keep a common calendar of events and schedules, track expenses and payments, share essential documents or photos, and communicate with each other via messaging.
The best thing about Two Happy Homes is that basic membership is free and a premium membership is available for those looking for even more features.  This website is a great resource that makes the challenging life of co-parenting easier, all in a safe, neutral environment.
For more information on Two Happy Homes visit: www.TwoHappyHomes.com
Podcast: Play in new window | Download