Rebuild Your Relationship After an Affair
By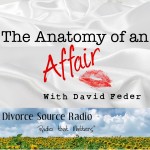 David Feder returns with Rebuild Your Relationship After an Affair and shares advice on getting over an affair.
David speaks to the need for full disclosure by the "affair partner" including the need for transparency in an effort to regain trust in the "hurt partner".
For more on David Feder, visit: www.MyLifeAfterAnAffair.com.  For more prograams related to divorce and life after divorce, visit: www.DivorceSourceRadio.com.
Podcast: Play in new window | Download