The 8 Habits of Love - Eliminating Fear, Anger and Sadness
By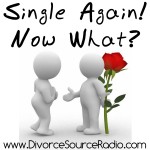 On this episode of Single Again! Now What?, Joanie and Steve welcome the Reverend Ed Bacon, a frequent guest on Oprah Winfrey's Soul Series on Oprah & Friends Radio, discussing 21st century spirituality, and has been a guest panelist in the Spirituality 101 segment of The Oprah Show's "Living Your Best Life" series.
Reverend Bacon believes that every person can live a full and creative life if they can learn to move through troubling emotions such as fear, anger, and sadness to find the beloved within themselves. He  explains how insecurity can keep us from connecting with others, our loving self, and finding our own peace, joy, and creative power.
Reverend Bacon's new book, 8 HABITS OF LOVE, shows, through relatable stories, how to create a full, meaningful life by developing simple habits-stillness, truth, forgiveness, compassion, play, candor, generosity, and community-and by asking such important questions as: How do I know I'm living the life I should be? How do I forgive those who have hurt me? How do I talk candidly with difficult people? How do I best help others when they need it? And How do I let go of the past and move forward?
Topics in the program include:
Is divorce a sin?
How to release the guilt from divorce
Finding your purpose in life
The difference between the roles we play in life and our souls
How fear cripples our lives and how anxiety can be handed down generation to generation
How certain habits can release you from grief and fear
And much more.
For more information on the Reverend Ed Bacon and his new book, 8 Habits of Love, visit: www.8HabitsOfLove.com.
Want to know more about our show?  Then visit our Facebook page at www.Facebook.com/SingleAgainNowWhat, and join our community.
Podcast: Play in new window | Download