Alone Again (Naturally)
By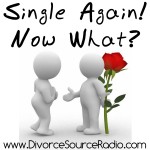 Are you ready for another jam-packed episode of Single Again! Now What? with Joanie Winberg, Lesley Hatfield and Steve Peck?   The journey to self discovery continues in this program titled, Alone Again (Naturally).
The show begins with a bit of a coaching session for Steve and others in our audience having a hard time after a relationship has ended, and finding themselves alone.  Joanie and Lesley, provide some great insight and wisdom and help us discover lessons we can learn from our loneliness.
Other topics in the show include:
Does equality for women exist in the home and workplace?
How partners can share household duties and work together for the good of the relationship
When is the right time to say I love you in a new relationship?
When is the proper time to have sex in a new relationship?
Joanie's approach to coaching clients
and much more!
For more on Joanie, Lesley and Steve, visit the Single Again! Now What Facebook page or write them at: [email protected] For more programs related to divorce and life after divorce, visit www.DivorceSourceRadio.com.
(Alone Again (Naturally) song by Gilbert O'Sullivan available on iTunes.
Podcast: Play in new window | Download