Can Hormones Play a Role in Divorce?
By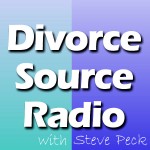 Is possible that your hormones could have played a role in the demise of your marriage?  Dr. Edward Lichten believes that many relationship problems can be directly traced to hormone imbalances.
Did your sex life with your ex cease to exist ?  Did you find yourself having an affair because you weren't getting your needs met at home?  Did the personality of your ex drastically change from the person you fell in love with?   Do you find your sex drive has diminished?  Have you lost energy, focus and your zest for life?  If you answered to more than one of these questions, and are in your late 30′s and beyond, there is a chance a hormonal imbalance could be part of the problem.
Dr. Lichten is the author of the Textbook of Bio-Identical Hormones and a leading researcher in the field of hormone replacement therapy (HRT).  He joins us along with two of his patients and explains the hormonal connection  that can be attributed to married couples falling out of love and into divorce.  In this program, you'll learn how a simple visit to an anti-aging specialist can improve your health and enhance future relationships.
Benefits of Hormone Replacement Therapy include:
Preventing heart disease
preventing osteoporosis
Controlling menopause symptoms
Improving sexual performance
increased energy and muscle mass
reduces body fat
improves mood and memory
and much more.
For more on Dr. Lichten, visit: www.USdoctor.info
Podcast: Play in new window | Download