Real Solutions for Real Stepfamilies
By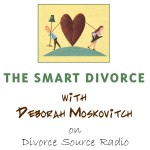 On this episode of The Smart Divorce with Deborah Moskovitch, we discuss Real Solutions for Stepfamilies.
Did you know that the divorce rate for remarriages with children is at a whopping 62-70%? Did you know that most stepfamilies take years (four to six) before family members even begin to feel comfortable with one another, let alone love one another? Did you know that the research shows that only approximately 20% of adult stepchildren report positive feelings about their stepmothers, despite the years of effort and kindness so many of them have shown their stepchildren? As you may imagine, there are many conversations that couples need to have before combining their families.
Our guest, Mary Kelly provides us with a framework for considerations when having the important conversations when merging families.  She provides the do's and don'ts for making this new family more likely to work.  Ms. Kelly is a therapist who has been working with and writing about stepcouples, stepfamilies, step kids, stepmoms and stepdads for over a decade. The number one declaration that stepcouples, and especially stepmothers tell her is: "We/I had no idea it would be this hard!"
Why is it so hard?  In this episode of The Smart Divorce we discuss what many in remarriage or re-partnership with children find themselves saying:
"Am I really supposed to love his/her children?"
"What does being a step-parent mean?"
"Do I really parent a child who isn't mine?"
"Just because I don't have kids, doesn't mean I don't have a valid opinion."
….and much more
And, then, based on these conversations provide solutions and strategies to maintain a healthy, loving relationship for the couple.
For more information and to contact Mary T. Kelly visit her website atwww.marriedwithbaggage.com or email: [email protected]
Don't forget, LIKE us on our Facebook pages, The Smart Divorce and Divorce Source Radio.  Join the community. For more programs related to divorce and life after divorce, visit www.DivorceSourceRadio.com.
Podcast: Play in new window | Download