Co-Parenting A Pet after Divorce
By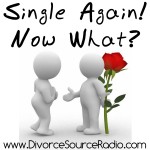 On this episode of Single Again! Now What? Joanie and Steve feature attorney and author David Pisarra to discuss Co-Parenting a Pet.
Using his own life story as a backdrop, David T. Pisarra, shares his experience of sharing a dog in What About Wally? and how it helped bring closure and healed the hurt of a broken heart.
Breaking up is difficult, and when you share a dog, (or cat for that matter), with another person, how your ex treats the dog is a major concern. Our dogs become like our children, and we want "the ex" to treat them with the same love, respect and care that we do.
Combining the life experiences of a divorce lawyer and a pet expert, David teaches the vital principles of co-parenting, mutual respect and the value of a clear parenting plan.
Other topics include:
Joanie's Cancer Retreat

Parental Alination

Personal Protection & Restraining Orders

How Divorce Ramps Up Anger 
For more on David Pisarra and his new book What About Wally, visit: www.WhatAboutWally.com.
For more programs on divorce and life after divorce, visit: www.DivorceSourceRadio.com.  For more on Joanie, visit: www.FreshStartAfterDivorce.com.
Podcast: Play in new window | Download