Overcoming the 5 Typical Divorce Issues
By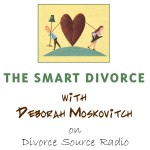 Our guest, Dr. Donald Gordon, is a Co-Founder and Executive Director of the Center for Divorce Education.  The Center for Divorce Education is a non-profit organization dedicated to educating the public, and family justice professionals on the effects of divorce and parenting plans on the emotional and social development of children.
Dr. Gordon is a 40+ year clinical psychologist and researcher with an area of expertise targeting the reduction and prevention of juvenile delinquency. During his 40 years of working with families, Dr. Gordon has studied the effects that different strategies have on reducing conflict within a family (both with parents and children).
In this episode of The Smart Divorce, Dr. Gordon shares his insights and wisdom on developing a healthy, happy relationship with your children and co-parent.  He explains how to communicate effectively, minimize stress, reduce conflict, and take your children out of the middle of the crossfire. 
We explore the cost effective education programs for parent and children that minimize the harmful effects of divorce.  Learn how the cost effective skills based online program by The Center for Divorce Education can help you.  We also explore these five typical issues of divorce:
1. Money Problems
2. Children Carrying Messages between Parents
3. Long Distance Parenting
4. Quizzing Children about the Other Parent
5. Putting Down the Other Parent
Learn skills that will immediately change the way you interact
For more information about the online divorce education programs visit http://online.divorce-education.com
http://www.divorce-education.com/programs/after-the-storm/
Don't miss out on learning about these wonderful, cost effective divorce education programs.
Don't forget, LIKE us on our Facebook pages, The Smart Divorce and Divorce Source Radio.  Join the community.
Podcast: Play in new window | Download