Overcoming Your Ex is an Obstacle to Settlement
By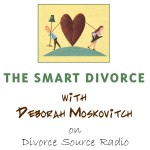 There is a kaleidoscope of emotion experienced in divorce, and sometimes it makes good people do bad things, but can also bring out the worst in people especially those with mental wellness issues. What happens when you are faced with the adversity from the other side, crazy making behavior, deception, lies, and so on?
Our guest is Steven Benmor, a Family Law lawyer who only handles matrimonial cases.   He takes us through the critical steps and thinking behind dealing with the difficult issues and personalities.   Steven is a Certified Specialist in Family Law by the Law Society of Upper Canada, Adjunct Professor at Osgoode Hall Law School, Co-chair of the Board of Access For Parents and Children in Ontario, Executive Member of the Family Law Section of the Ontario Bar Association, Member of the Board of the Ontario Chapter of the Association of Family and Conciliation Courts, Member of the Board of the Ontario Network for the Prevention of Elder Abuse, Member of The Advocates Society, Member of the Toronto Lawyers Association and Member of the Family Lawyers Association. Steven is a recognized lawyer, educator, speaker and writer – and is well versed in dealing with many of the difficult divorce dilemmas that only the most seasoned of lawyers can handle so adeptly.
In this episode of The Smart Divorce we discuss personality disorder, the relationship breakdown business, and  stepchildren support.
Topics include:
Dealing with oppositional, paranoid and aggressive behavior from the other side –your soon to be former partner and their legal counsel
Why you're better off in the legal system
Getting out of "emotional jail"
Why it's important to focus on the truth, not on the lie
What the system is – an adversarial system, and not an inquisition system
Legal responsibilities to the step children
Overcoming your ex
And much more!
For more information and to contact Steven Benmor visit his website at www.benmor.com or email [email protected]
Don't forget, LIKE us on our Facebook pages, The Smart Divorce and Divorce Source Radio.  Join the community For more programs related to divorce and life after divorce, visit www.DivorceSourceRadio.com.
Podcast: Play in new window | Download