Stuck In What Was - Step 6 Journey Beyond Divorce
By
(Listener Note: This is Episode #6 of this twelve-part series. To take full advantage of this please visit our show archive and listen to the episodes in their proper order).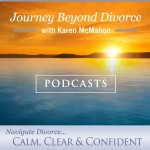 I keep getting stuck in what was. 2 tools to shift your gaze from the rear view mirror to the front windshield during divorce.  With Karen McMahon and Sheila Knopp (Step 6 of a 12 Step Series)
It is both normal and easy to label ourselves and / or our spouse as bad or wrong during divorce.  We can live in regret or with rose color glasses as we keep our eyes glued to the rear view mirror.  Our judgement of the past, which is often unconscious thought behavior, locks us into the hurt and pain that we so deeply want to escape.
Today's show invites you into a new practice of Curiosity.  It considers what might happen if you didn't firmly believe you knew everything… the why and how, and the motivation or thought behind every action.
While our judgement keeps us stuck in old thought patterns that add to our suffering, curiosity opens the possibility for new learning, growth and healing.  See how letting go of your judgement of the past enables you to embrace the possibility of the future.
For more information on Karen and Journey Beyond Divorce visit: www.JourneyBeyondDivorce.com.
Podcast: Play in new window | Download