The Divorce Doula Makes Divorce Easier
By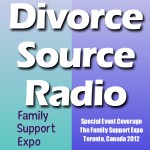 We've heard of divorce coaches and divorce consultants, but never before a Divorce Doula!  In this episode of Divorce Source Radio with Steve Peck, from The Family Support Expo in Toronto, Lynn Kaplan, (a.k.a.., Divorce Doula), joins us and explains her unique method of helping individuals navigate divorce more successfully and make divorce easier.
Lynn provides her clients with strategic planning and expert guidance to meet a full range of practical and emotional needs.  She educates and prepares them to work effectively and efficiently with other specialists, such as lawyers, accountants, or mediators to ensure a more economical use of your money, time, and emotional resources.
If you're in the process of divorce, this program will show you that you don't have to go it alone. Divorce can be overwhelming, and Lynn helps her clients plan strategies to adapt to the changes that divorcing individuals and their children are undergoing as the family structure changes.  She also assists clients by preparing them for mediations and meetings with their lawyer or divorce professionals so they can walk in with a succinct and organized agenda.  This not only saves clients money, but also provides peace of mind as well.
For more information on Lynn Kaplan, Visit: www.LynnKaplan.ca
Podcast: Play in new window | Download