Beyond Infidelity Show Preview
By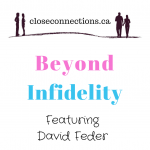 In this podcast David Feder introduces his new show, BEYOND INFIDELITY.  You will remember David as Divorce Source Radio's expert on infidelity and his previous very successful show, MY LIFE AFTER AN AFFAIR.
In this podcast David tells you that during the next year, BEYOND INFIDELITY is going to focus on what recovery is and what it looks like.  As a listener you benefit because each podcast will provide you with guidance, direction and tips of what you can do at a grass routes level to manage the challenges that you have to manage each and every day.
Nobody will be left out on BEYOND INFIDELITY as David plans to address the more common issues that both groups face, regardless of whether you are the Hurt Partner, or the Participating Partner.  In each podcast David and his expert guests will speak about a new set of issues and emotions and David in particular will cover what he has coined, "recovery hurdles".  There is no doubt that as a result of listening to David's monthly podcast, you will feel better equipped to move forward in your recovery from infidelity.
With David's blend of his road map to recovery, education and coaching you will recover.  It is true that recovering from infidelity is hard work but David has a way that makes it both achievable and attainable, so please tune in.
David tells us that "you will recover from infidelity, the question is how"?  Join him in his new show, BEYOND INFIDELITY, to find out.
Podcast: Play in new window | Download