Archive for Beyond Infidelity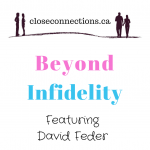 Either you or your partner had an affair and you've made the decision to stay together.  Yes, you can stay together and settle for a relationship that is OK, or with the help of David Feder who is an expert in treating infidelity, you can survive infidelity, rebuild your relationship and thrive.
In this episode of BEYOND INFIDELITY David Feder begins a 2-part review of some of what he coins, the common "recovery hurdles" that can interfere with the process of rebuilding your relationship after an affair.
Tune in to learn about what you should avoid so that you and your spouse can rebuild and have an extraordinary relationship.  It begins here.
For more information about David Feder, go to closeconnections.ca, or you can speak with him by calling 416-315-5107.
Podcast: Play in new window | Download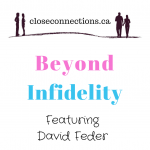 David Feder, a therapist specializing in helping people recovery from infidelity not only believes that the majority of people can save their marriage and keep their families intact, they can SURVIVE infidelity and THRIVE!  David brings his expertise to DSR where in this podcast he speaks about his own 12 Pre-Requisites to Recovery that Participating Partners and Hurt Partners require in order to successfully recover.  David believes that following the pre-requisites for a successful recovery increases the likelihood for a successful recovery and the possibility of having a relationship that thrives.  Something we all want.
Of course there are mistakes that people may make and David highlights his Five top Recovery Hurdles for us.  Lemony Snicket, a writer, musician and novelist said, "What might seem to be a series of unfortunate events may be the first steps of a journey".  David suggests that "if you are currently suffering from infidelity, follow my 12 Pre-Requisites for Recovery and begin your journey.  You may be pleasantly surprised.  Infidelity can be an opportunity to jump start your relationship, it does not have to be an ending."  We hope you will tune in.
For more on David visit www.CloseConnections.ca.
Podcast: Play in new window | Download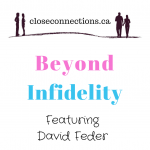 In this podcast David Feder introduces his new show, BEYOND INFIDELITY.  You will remember David as Divorce Source Radio's expert on infidelity and his previous very successful show, MY LIFE AFTER AN AFFAIR.
In this podcast David tells you that during the next year, BEYOND INFIDELITY is going to focus on what recovery is and what it looks like.  As a listener you benefit because each podcast will provide you with guidance, direction and tips of what you can do at a grass routes level to manage the challenges that you have to manage each and every day.
Nobody will be left out on BEYOND INFIDELITY as David plans to address the more common issues that both groups face, regardless of whether you are the Hurt Partner, or the Participating Partner.  In each podcast David and his expert guests will speak about a new set of issues and emotions and David in particular will cover what he has coined, "recovery hurdles".  There is no doubt that as a result of listening to David's monthly podcast, you will feel better equipped to move forward in your recovery from infidelity.
With David's blend of his road map to recovery, education and coaching you will recover.  It is true that recovering from infidelity is hard work but David has a way that makes it both achievable and attainable, so please tune in.
David tells us that "you will recover from infidelity, the question is how"?  Join him in his new show, BEYOND INFIDELITY, to find out.
Podcast: Play in new window | Download