Financial Tips for Divorcing Couples and Families
By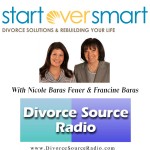 Nicole Feuer and Francine Baras return with another episode of Start Over Smart.
When divorcing, finances are of the utmost importance. Lili Vasileff, founder and President of Divorce and Money Matters, LLC, is a pioneer in the field of divorce financial planning and provides financial tips for divorcing couples and families.
Making financial decisions can feel like stepping into a world of the unknown. Lili has over thirty plus years of experience in divorce financial planning, financial mediation, and wealth management services and has helped thousands of divorcing couples.
As they say, "If you're failing to plan, you're planning to fail".  Learn what you need to know about the financial aspect of divorce so that you can protect you and your family.
For more information on Lili Vasileff, visit: http://www.divorcematters.com
For more on Nicole and Francine and their book 37 Things I wish I'd Known Before My Divorce visit: www.SOSDivorceAdvisors.com.
For more programs related to divorce and life after divorce, visit: www.DivorceSourceRadio.com.
Podcast: Play in new window | Download