Mediation for A More Peaceful Divorce
By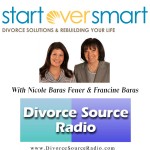 Divorce attorney and mediator, Vicki Volper joins Nicole Feuer and Francine Baras on this episode of Start Over Smart to discuss mediation for a more peaceful divorce.
Attorney Volper has devoted her career to helping couples divorce in a manner that maintains their dignity, preserves their assets and protects their children. She believes that people can divorce without destroying each other and their children.
Topics include:
• Understanding mediation
• Mediation versus collaborative or litigation
• Who is a good candidate for mediation?
• How to find a mediator in your area
• Is mediation cheaper than a traditional divorce litigation
• And much more
For more on Nicole and Francine and their book 37 Things I wish I'd Known Before My Divorce visit: www.SOSDivorceAdvisors.com.
For more programs related to divorce and life after divorce, visit: www.DivorceSourceRadio.com. For more on Nicole and Francine and their new book 37 Things I wish I'd Known Before My Divorce
Podcast: Play in new window | Download