You Don't Know What You Don't Know about Divorce
By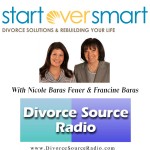 Divorce Coach Laura Campbell joins Nicole Feuer and Francine Barars on Start Over Smart.
This program will help you assess where are you now, look at where you want to go and provide tips on how to get there.
Topics include:
• What to expect when divorcing
• Considerations if you have children
• Common Pitfalls during divorce
• Your next chapter in life
• Becoming self-sufficient
• Finding love again
• And much more.
For more on Nicole and Francine and their book 37 Things I wish I'd Known Before My Divorce visit: www.SOSDivorceAdvisors.com.
For more programs related to divorce and life after divorce, visit: www.DivorceSourceRadio.com.
Podcast: Play in new window | Download