It's Never Too Late to Have a Good Childhood
By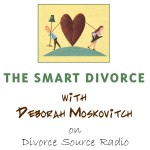 Heartwarming, dream come true, and a family reunion.  These are but a few words that ring true, and bring tears of sadness and happiness. Family law attorney Ron Supancic shares his touching and personal story of his parents divorce and subsequent remarriage almost 30 years later; and the profound impact it has had on his life.  This is a first for Ron, as he has never publicly shared his family story, and we were honored and privileged to have heard it first – and be able to share it with our special listeners.
This episode of The Smart Divorce is not to be missed.  It's a true Hollywood story with an ending that many children of divorce can only dream of, a parent's reunion after many years of divorce.  There are so many life lessons that Ron teaches us; how he has become a wounded healer, uses the talking stick, what it means to develop your mission statement for divorce.  There is much to learn – tune in to hear this powerful story of encouragement and hope.
A few highlights from Ron's story ………
•    Parent's divorced when he was only 9 years old, a time when divorce was a rare event.
•    Although abandoned by his biological father, they reunited 10 years later when Ron enlisted and served as a Lieutenant Commander in the U.S. Navy's Judge Advocate General's Corp.
•    Ron's mother's question…..and how the answer reunited the family.
•    How determination and perseverance shaped Ron's career as family law attorney helping clients see their divorce as a healing opportunity for transformation.
Ron Supancic has been voted one of L.A.'s Super Lawyers by a jury of his peers in Los Angeles Magazine every year since 2006. At a special ceremony held last September, Ron was honored by the California State Bar for 30 years of service as a Certified Family Law Specialist.  Ron is a frequent guest on radio and television, where he advocates Collaborative Divorce and Mediation, as well as other innovative approaches to resolve family conflict. Author of three books, When All Else Fails: The Real Cost of Ending a Marriage, Win-Win Custody Solutions, and California Family Law: A Layman's Guide, Ron offers his clients the newest choices in family law. His commitment is to advocate for his client's rights in a climate of integrity, dignity and respect. To contact Ron, visit his website at www.thelawcollaborative.com
Don't forget, LIKE us on our Facebook pages, The Smart Divorce and Divorce Source Radio.  Join the community!
Podcast: Play in new window | Download